Hellz Jezebel Memorial Tournament
June 17, 2017 @ 9:00 am

-

June 18, 2017 @ 8:00 pm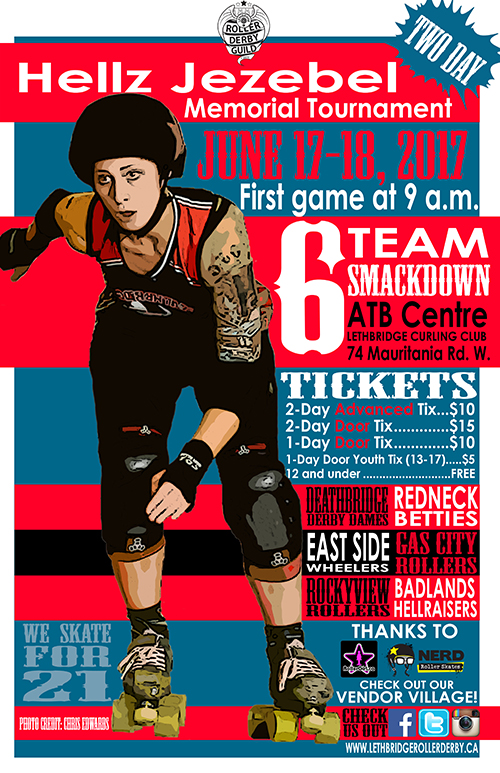 ---
Join us for a 6-team smackdown in honour of a fierce and strong roller derby player, Hellz Jezebel.
The Lethbridge Roller Derby Guild will be collecting donations both days in the name of Hellz Jezebel for the Lethbridge Youth Treatment Centre for AHS.
June 17-18, 2017
ATB Centre
Lethbridge Curling Club
74 Mauritania Rd. W.
Tickets
2-Day Advanced Tix
(available at Drunken Sailor) $10
2-Day Door Tix $15
1-Day Door Tix $10
1-Day Door Youth Tix (13-17) $5
Child 12 and under FREE
June 18 Father's Day Admission!
Dads get in FREE when accompanied by a youth or child
Teams – click logo for rosters
Schedule
Saturday, June 17
9 a.m. Bout 1 Rocky View 154 vs Hellraisers 302
11 a.m. Bout 2 East Side Wheelers 205 vs Deathbridge Derby Dames 179
1 p.m. Bout 3 Gas City Regulators 346 vs Hellraisers 55
3 p.m. Bout 4 Redneck Betties 212 vs Eastside Wheelers 136
5 p.m. Bout 5 Rocky View 84 vs Deathbridge Derby Dames 390
7 p.m. Bout 6 Hellraisers 62 vs East Side Wheelers 143 (called after first half)
9 p.m. After party – Lethbridge Curling Club Lounge
Sunday, June 18
10 a.m. Bout 7 Gas City Regulators 252 vs Deathbridge Derby Dames 66
Noon Bout 8 Redneck Betties 278 vs East Side Wheelers 217
2 p.m. Junior Game
4 p.m. BRONZE Deathbridge Derby Dames 162 vs East side Wheelers 188
6 p.m. GOLD Gas City Regulators 179 vs Redneck Betties 169
Thank you to our sponsors
Rollergirl.ca
Nerd Roller Skates
Thank you to our silent auction donators
Check out our Vendor Village
If you are interested in becoming a vendor, please fill out the Vendor Registration
Official Photographer
Volunteer
We are looking for off-skate volunteers to help with game officiating and venue assistance. Please register as a volunter by filling out this form.
Hotel information
Hello, We have been working hard to secure a great deal for you all! We have a block of rooms reserved for this weekend at the following hotel:
The Days Inn-Lethbridge
100 3rd Avenue South
Lethbridge, AB T1J 4L2
Prices:
$84.99 plus tax for 2 double sized beds on the exterior side room.
$89.99 plus tax for 2 double sized beds on interior side room.
$129.99 plus tax for 2 double and pullout bed which could sleep up to 5-6 people.
$94.99 plus tax for 2 queen sized beds on the interior room
With Indoor Pool, hot tub and waterslide, pet-friendly hotel, free daybreak continental breakfast and free high-speed Internet access to look up local events from your hotel room. Free parking is available. Kids 17 and under stay free with an adult. Located close to down town with many dining options. Located less than 15 minutes away from our venue
Call the Days Inn Lethbridge at (403) 327-6000 and ask for the Lethbridge Roller Derby Guild rates.
Book soon to secure your room.