Fifth annual Live Free Skate Hard set for Nov. 5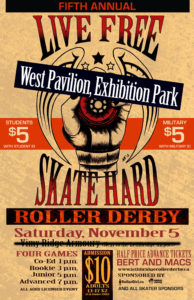 The Lethbridge Roller Derby Guild will be hosting their fifth annual Live Free, Skate Hard Invitational Nov. 5, 2016. Skaters from the Deathbridge Derby Dames and Windy City Wipeouts will be joined by skaters across Western Canada to participate in a full day of hard hitting roller derby action.
This year's Live Free event has a new location. It will be held at the Vimy Ridge Armory located near the Lethbridge Airport with games starting at 1 p.m.
Live Free, Skate Hard will feature four roller derby games with rookie, junior, advanced and co-ed skaters taking the track in full-contact action. Lethbridge residents are encouraged to come see what roller derby is all about.
"Our league will have skaters competing in all levels" says Brianna Block, bout committee chair. "This event allows us to showcase roller derby as a sport you can grow into."
The fifth-annual event has skaters from other leagues joining in on the fun.
"Live Free is a big event in the southern Alberta derby community, and we attract skaters from across Western Canada. Every year we grow this event and look forward to seeing new and returning skaters," says Block.
The league will be accepting bottle donations at the door to go toward developing Lethbridge adult and junior roller derby programs. Doors open at 12 p.m. Admission at door is $10 adults, 13-17 years of age $2, 12 and under free, Students and military get in for $5 with ID. Five dollar advanced tickets are available at Bert and Macs Lethbridge. Visit www.lethbridgerollerderby.ca or their Facebook page for more information on this event and events to come.