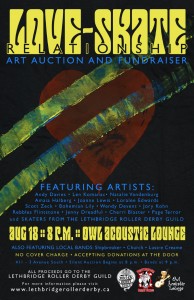 "Skating just isn't an activity, it's a state of mind."
Join us for an evening of art and music at the Love-Skate Relationship Art Auction and Fundraiser August 18 at the Owl Acoustic Lounge. Pieces available for silent auction will be on display at the Owl throughout August leading up to the event.
Silent Auction begins at 8 p.m. and ends at midnight, bands begin at 9 p.m. All proceeds will go to the Lethbridge Roller Derby Guild. We hope to see you at the event of art, music and love of skating!
Full Event details
Love-Skate Relationship Art Auction and Fundraiser
Saturday, August 18, 2012
Owl Acoustic Lounge • 411 3 Ave. South
Silent auction begins at 8:00 p.m. • Ends at midnight
Band lineup, starting at 9 p.m.: Shipbreaker, Church, Lustre Creame
No cover, accepting donations at the door
Featured Bands:
Shipbreaker
Robin Hepher and Roz Jeffrey will produce romantic sonic landscapes like a full shoegaze band from the 90s .
Church
Featuring Leigh Doerksen and Daniel Puurveen with their gritty, blues-influenced rock.
Lustre Creame
Progressive rock trio and Lethbridge music scene darlings will close out the night.
Featured Artists:
Len Komanac
A Lethbridge-based visual artist, best known for his wry artistic observations of pop culture.
Natalie Vandenburg
Natalie is a professional historian and visual artist currently residing in Lethbridge.
Amaia Halberg
Tattoo artist and one of the founding members of the LRDG, Amaia, aka Skunky designed our league logo. While she is no longer able to skate with us, she remains an active and dedicated supporter of women's roller derby.
Scott Zeck
Originally from B.C., Scott now lives and sketches in Lethbridge.
Loralee Sand Edwards
Loralee is a local visual artist whose most recent work focuses on self-portraiture in the digital age. One of the past organizers of the Lethbridge Dr. Sketchy's Anti-Art School, she is currently best known for her iTub series.
Rebbles Flintstone
Here artist name is Cassandra Hueser and she is an LRDG derby girl and visual artist.
Jenny Dreadful
Her civilian name is Jennifer Davis and she's an amateur artist by day and a LRDG roller girl by night.
Cherri Blaster
Amateur photographer and graphic designer, this LRDG skater's civilian name is Martina Emard.
Bohemian Lily
She is a visual artist who imports funky, fun, and fearless jewelry.
Wendy Devent
She is the owner of Paws on the Run pet services, and a professional photographer.
Page Terror
Aka Heather Nicholson is an LRDG roller girl and jewelry maker.
Jory Kohn
Knitter, felter, button-maker, and all-around crafter, you can find her creations in the SAAG gift shop, under her label Cog~KNIT~ive.
Preacher's Slaughter
Aka Abigail Garratt, is an LRDG roller girl, and professional doula. She enjoys the arts and expresses herself through painting, sculpting, sketching, dance, design, and sewing.

 Infinity Derby Scarf
Joanne Lewis
Photo to come.
She is the proprietor of Edit, creator of stylish bags, scarves, mittens, and other accessories produced from upcycled fabrics.
 To Gnome, With Love
Andy Davies
Photo to come.
A Lethbridge based visual artist and creator of "How Can I Miss You If You Never Go Away?" on display in the S.E. corner of Galt Gardens.