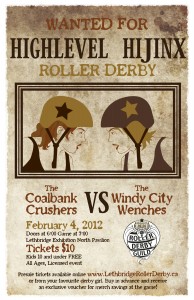 The Lethbridge Roller Derby Guild announced their expansion not too long ago and are now ready to roll with their first event debuting their new house teams.
The Coalbank Crushers will take on the Windy City Wenches in Highlevel Hijinx at the Lethbridge Exhibition North Pavilion on Feb. 4, 2012 at 7 p.m.
"We'll have all of Lethbridge's favourite skaters playing, as well as some new faces," says Heather Zarichney, aka Half Pint Havoc, Lethbridge Roller Derby Guild president. "The great thing with our expansion is anyone who is eligible to play, will get put on a team and have an opportunity to play."
With only 14 skaters allowed on a roster per game and the numbers within the league growing far from that, it was only a matter of time before the Guild moved beyond their premiere team, the Deathbridge Derby Dames.
"The Deathbridge team will be our travel team. It will be comprised of our best skaters within the league. (Deathbridge) will still host top-level teams from all over western Canada and when we get a challenge in another city, they are the gals we'll be sending," says Zarichney.
"Our house teams will give our newer members the opportunity to get experience to move up to the Deathbridge level of play. Our more experienced skaters will be able to mentor the newer skaters on their team in game play," adds Zarichney.
While Crushers and the Wenches will play each other to get better and learn, there may be opportunities to accept individual challenges from other leagues as well.
"We hope to work on that in the near future," says Zarichney.
Advance tickets for this all ages, licensed event are $10 and are available at:
Charisma • 306 – 5 St. South Lethbridge
Infamous • 323 – 5 St. South  Lethbridge
Showcase Comics • 1271 – 3 Ave. South  Lethbridge
Bert & Macs Source For Sports • 1108 – 1 Ave. South  Lethbridge
Jack of Hearts Tattoo • 810 – 3 Ave. South Lethbridge
Party Central • 254 – 13 St. North Lethbridge
Blueprint Records • 519 – 4 Ave. South Lethbridge
Or from your favourite derby girl!
If you buy in advance you will receive an exclusive voucher for merch savings at the game! Kids 10 and under are free. Tickets are also available at the door. Doors will open at 6 p.m. on Feb. 4 with first whistle at 7 p.m.