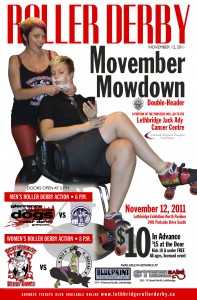 Movember is about changing the face of men's health and prostate cancer awareness. Since many members of the Lethbridge Roller Derby Guild can't grow mustaches like their male counterparts to help fund raise for the event, they decided to find their own way to raise money.
"We are pleased to be hosting our next roller derby event, Movember Mowdown on Nov. 12, where a portion of every ticket sale will be donated to the Jack Ady Cancer Centre here in Lethbridge." says league president Heather Zarichney, aka Half Pint Havoc.
The Lethbridge treatment centre opened at the Chinook Regional Hospital in June of 2010, allowing individuals in the area to receive treatment locally rather than travelling to Calgary or Edmonton.
"What better month to host a fundraiser for the cancer centre than in Movember?" adds Zarichney.
This all-ages, licensed roller derby double-header will be bringing three teams to the track that has yet to play in Lethbridge. In the first bout, the Glenmore Reservoir Dogs from Calgary will face the Red Deer Dreadnaughts in men's action. Men's roller derby is still relatively new to Alberta and watching these two teams battle in Movember Mowdown will be a fun way to support the cause.
Lethbridge Roller Derby Guild coach Brad Recsky, aka Bradass, also skates with the Dogs and is looking forward to playing a game on his home turf.
"We are really excited. It's a great cause and it's going to be a great game. But I also get to play with my dad, Riceball (Steve Recsky) who is a Reservoir Dog too."
Following the men's match, the Deathbridge Derby Dames will take on the B-52 Bellas. A team rooted in Calgary since 2008, the Bellas bring a lot of experience to the track.
After the Dames' 140-93 loss to the Missfits of Mayhem on Oct. 29, the Dames are looking to rebuild and give the Bellas a run for their money.
"Now that we have a couple of games under our belt, we're able to pick up on our strengths and weaknesses. We're getting stronger at every game," says coach Jessica Lloyd, aka Jesse Dahmer.
In addition to the roller derby action, fans will bear witness to skaters who will be getting their hair chopped during half-time of the men's game to be donated to Locks of Love, a non-profit organization who provides hair pieces to children suffering from medical hair loss. Martina Emard, aka Cherri Blaster and Alaina Wells, aka Kalamity Lain have volunteered to donate 10 inches to the cause.
"It's going to be a fantastic night of action, fun and support towards many causes," says Zarichney. "The Jack Ady Cancer Centre is a great facility in our community. We want to see all our fans come out and if you haven't experienced roller derby in Lethbridge yet, this is the night to do it."
Tickets for the all-ages, licensed event are $10 in advance, $15 at the door and available in advance at Steel Sass, Blueprint Records or online by following this link.